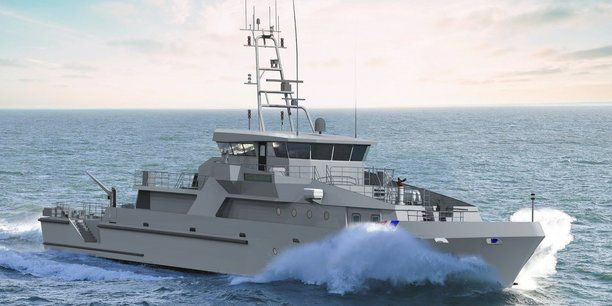 The DGA (Direction Générale de l'Armement – the French Defence Procurement Agency) ordered on August 12, 2022 from the SOCARENAM and CNN MCO (a Company of the Equans group) consortium, a new generation of coast guards patrol boats.
The contract covers the production of up to 6 patrol boats and their operational maintenance. The delivery of the first vessel is scheduled for the second half of 2024 in Cherbourg. The other 5 are intended for mainland France (Cherbourg, Lorient and Toulon) as well as overseas (Pointe-à-Pitre and Papeete).
These versatile patrol boats are scheduled to enable 7-day missions with 15 people without refueling and to navigate 180 days a year.
They will be 46 meters long and will have a displacement of around 350 tons loaded, with a speed of up to 21 knots.
After having jointly won two contracts for patrol boats for the French Navy, namely one for the PAG (Patrouilleurs Antilles Guyane – patrol boats for French West Indies & French Guyana) in 2017 and another one for the POM (Patrouilleurs Outre-Mer – patrol boats for Overseas) at the end of 2019, this order constitutes a new success for our two companies.