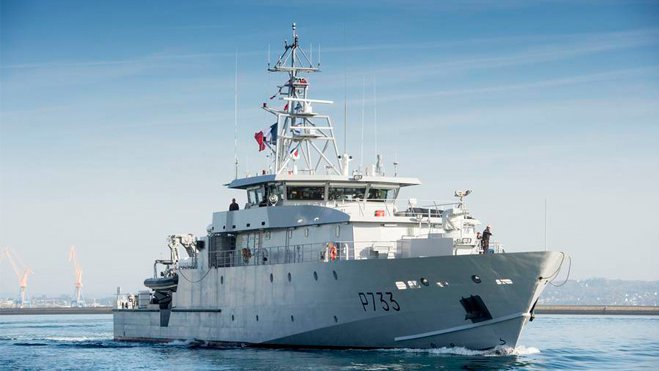 The vessels fleet managed by CNN MCO has spread during the first  half-year period of 2017 as it includes from now on two more patrol vessels, brand new ones, called « patrouilleurs légers guyanais (PLG) » especially built for the French West Indies.
CNN MCO has won at the end of 2015 together with Socarenam the contract for both patrol vessels building and maintenance.
CNN MCO is in charge of the operational maintenance for the next 6 years. Those vessels, new ships of high technology, are replacing  at Degrad-Des-Cannes (French Guyana) two patrol vessels (P400  type built in 1987) sent back to Brest for dismantling.
The missions for both PLG called La Confiance and La Résolue are particularly various in this area covering the French West Indies and the French Guyana seas. Their main duties are to help against illegal fishing and illicit trafficking, as well as protect the Kourou space center. They can also assist vessels facing difficulties, take part in sea rescuing, fight sea pollution or monitor marine protected areas.
Thanks to their sizing : 61 meters long (200 feet), 10 meters large (32.8 feet), able  to displace a 700 tons load, they can accommodate a staff of 24 seamen and up to 38 persons.
The Socarenam shipyard in charge of the firm order regarding  the building of those vessels has already finished the one regarding  La Confiance at the end of 2016.
CNN MCO has therefore decided to implement an agency early 2017 in the French Guyana, able to host this first vessel. The local industry and human resources were not unknown as CNN MCO handled the coast guards and customs patrol boats located  in the Overseas and particularly in the French Guyana, 10 years long  for some of them, even if this time the maintenance contract for those PLGs meets higher requirements.
Thanks to its staff expertise and skills, CNN MCO Guyana, based at the closest location to the vessels, assists the team members with a non-stop availability. The aim is to be able to make technical repairings  or logistical support, providing the appropriate spare parts at the shortest notice.
The second vessel La Résolue, being in transit at the moment, will be made available to the French Marine  during Autumn 2017. CNN MCO Guyana will look after its maintenance, as well as after the technical stops. The forecasted  technical stops will take place  in October 2017, another one in 2018 for La Confiance and one technical stop is already planned in 2018 for La Résolue.
Through this expansion, CNN MCO is increasing  its activity for operational maintenance in South America and is developing its position in  this geographical area for the coming years.